TOWNHOUSE IN MONTREAL
The group of New House Construction is in charge of your townhouse project from A to Z from the search of land, through plans and turnkey construction.

A city residence is also called a townhouse. It is a set of several houses usually with a narrow façade and rather elongated towards the back to maximize the use of a plot of land. We have economical models of townhouse projects with only 21 feet of frontage and no basement with three bedrooms. For a group of two houses we will speak of semi-detached houses, whereas for 3 and more we call them townhouses.
THE TOWNHOUSE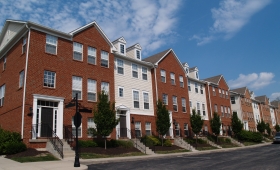 By its nature and shape of construction, a townhouse project requires more land to allow the construction of at least three houses attached to one another and it rather addresses itself to a promoter or a group of business people who wish to build in order to resell or for people who know each other and want to live in a community all the while saving and maximizing land and construction space.

The townhouse can adopt several styles: contemporary, Victorian, Canadian or other. A housing project in the city can usually be one of one, two or three floors. Townhouses are a compromise between the condo and the one-family home. The condo requires regulations and a community convention while a townhouse residence in the city allows for more autonomy but less land space than the individual house.

A row house such as a semi-detached residence has especially first-home buyers, professionals or young families who want more autonomy and privacy of land than owners of condos.

Whether you are a developer or a group of business people, the New House Construction under the direction of Construction Daniel Dargis Inc. takes care of: finding the land, mounting the project taking into account your budget, making the plans, applying for the permits and the turnkey construction of your townhouse project.

Do not hesitate to contact us!