MOUNTING A CONDO BUILDING PROJECT IN MONTREAL
New House Construction includes several general contractors and professional architects, structural engineers, building inspectors, designers and real-estate agents who help business people to find a location to build or renovate a condo project. Our group under the direction of Mr. Daniel Dargis, Engineer and general contractor since 1989, is responsible for everything, from the search of land or a building, through sketches and proposals according to the budget, plans, permit application, interior design, project management and construction.
CONDO BUILDING CONSTRUCTION PROJECT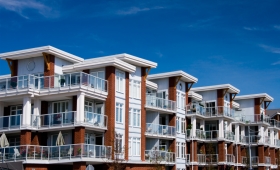 The mounting of condo building projects knows, in Montreal and surroundings, since 2010 until today, a wave of popularity. Local and foreign investors are buying not one but several condo units and even the entire condo project for resale or rental purposes. In Montreal, business people in real estate, investors and developers deploy huge resources to find the perfect place to mount their condo project. In theory, there are three options for business people interested in a condo project:
Land for new construction;
Complete demolition of an existing building and new reconstruction;
Renovation of an existing building.
In practice, on the island of Montreal, it is very rare to find vacant land for new construction. Therefore, one does not even consider finding a plot of land on the island of Montreal. Rather, one looks for existing buildings in order to:
demolish everything and rebuilt from scratch; or
renovate well for resale and make a "flip" in local parlance.
A-Z SOLUTION FOR CONDO BUILDING PROJECTS
New House Construction under the direction of Construction Daniel Dargis Inc. and Mr. Daniel Dargis, Engineer and general contractor can help you to:
find the land to mount a condo project in the suburbs of Montreal and surroundings;
find an existing building to buy, demolish or renovate to sell or to use in your group of investors promoters;
inspect the building before buying it;
do a thorough estimate of the work of the condo project before buying the property;
do the feasibility study of the condo building project including: zoning regulations, 2D sketches and 3D models, proposals for obtaining permits, market research, marketing, comparables in a condo project report to obtain financing;
architectural plans, structural engineering and interior design;
the turnkey construction.
New House Construction is all you need to achieve a condo project in Montreal and surroundings.
Do not hesitate to contact us!
NEW CONDO BUILDING PROJECT
When it comes to the installation of a new condo building project New House Construction can help you. It may be that you have found land or a building to be demolished. Before going to an architect which can lead to substantial expenses, it is advisable to call upon New House Construction which will take charge of the mounting of your project through the following stages to help you save money while examining the condo building project with experts in construction:
Sketches and models:

The goal is to produce sketches that will serve as a basis to develop a plan of a condo building project. An expert of the New House Construction group meets you to listen to you and reconcile: building inspection and location, goals, tastes and budget. In this first stage we collect the information that you have on hand: ideas, photos, images, plans, sketches, drawings, a budget, tastes for and colors of materials, size and shape of parts. To this we do research on the zoning regulations for the construction of a condo building project and then we begin to design sketches as proposals.



Estimated budget:

Once you have approved an outline proposal in 2D summary and 3D perspective drawings, we show it to some of our construction contractors who will provide you with a budget price to confirm the approximate cost of the work. In case of exceeding the budget, this allows you to make changes to your condo building project before investing in comprehensive plans. During this stage it is possible that some entrepreneurs bring recommendations that will help us improve your model of the condo building project of your dreams;



The plan:

Once the sketches and the budget price approved, the condo building project plans are made;



The permit and construction:

Once the plan of the condo building project is complete it is submitted to the municipality to obtain a permit and then construction work can begin.
Mr. Daniel Dargis, Engineer and general contractor, leads a group of professionals and general contractors who come together to design the mounting of the condo building project of your dreams from A to Z from the sketches and models through the plans to suit your tastes and budget and then they carry out the turnkey construction.
RENOVATION OF A CONDO BUILDING PROJECT
Be careful not to fall in love with a building and try to convince yourself that this is the perfect property to realize a condo building project. Call upon New House Construction through Mr. Daniel Dargis, Engineer and general contractor, who will take care to examine in a subjective way the property that you have found to do an inspection and give you his recommendations.

Whether it is for a condo building project using a commercial or multiplex edifice to convert into a residential condo building project we mount the project from A to Z.

It is indeed possible that you have found a real bargain but do not forget that there are plentiful of business people like you who spend their days looking for opportunities in real estate with many resources in construction and real estate contacts in order to realize a condo building project. So, when a building has been on the market for several days for all to be seen and it is not sold yet then you should start analyzing the situation. Too many buyers are charmed by salesmen who are only interested in the commission of the sale.

Call upon New House Construction which will put you in contact with a building inspector and contractor to properly examine the building and to estimate the work to be done.


Selection criteria for a condo building project
Experts in real estate know that, in most major cities like Montreal and even outside the major centers, the no.1 criteria for mounting a condo building project is the location or the site. The building may be damaged and then it is always possible to repair it. The tenants will have to be relocated however. It is often possible to find a arrangement, but the location allowing for proximity to services can not be improved.

Here are some criteria to consider when selecting a location for mounting a condo building project on the island of Montreal:
Proximity to a metro, access to public transportation or highways and services nearby: shopping center, grocery store, daycare, medical center;
The operating costs: heating, taxes, maintenance;
The cost of soil tests for obtaining a permit and possible decontamination;
The environment: quietness, park, the neighborhood;
The quality of the foundations, the building structure and an estimate of the work to transform the building;
Parking and storage location;
The zoning regulations and the possibility to perform conversions of buildings: additional condo to the basement or adding a floor, a roof terrace;
The flexibility of the seller to finance you remaining in balance of sale.
New House Construction not only helps you to choose objectively the building and the location for mounting a condo building project but also gives you the means to do the project with professionals and licensed contractors.



Do not hesitate to contact us!