Welcome to the New House Construction Montreal
New House Construction Montreal is a group of RBQ general contractors and professionals who come together to offer you a variety of services in order to build your project in a large area of more than 100 km around Montreal under the direction Mr. Daniel Dargis, Engineer and general contractor since 1989. Whether you are an individual, a businessman, a contractor or a real-estate developer who needs resources for the construction of a new house or mounting a real-estate project with the help of an architect's blueprint, the approval of a structural engineer, an estimate, interior design, the assembly of a framework, a subcontractor to carry out a specialized task, the search of a plot of land, management, assistance of general contractors, building inspection and turnkey construction, we can help you.
New house construction Montreal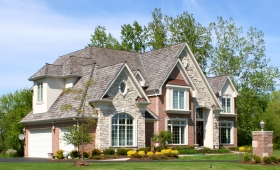 The New House Construction Montreal regrouping is the first of its kind in Quebec that helps individuals as well as general contractors and new real-estate developers by providing them with the resources of professionals (engineers, architects, project managers, estimators and construction consultants), entrepreneurs (general contractors and specialized ones with RBQ license), labor (workers with skills cards).

For individuals: Our group help individuals who wish to build new homes in and around Montreal as self-builders or who are seeking general contractors to get estimates and then to perform the work in part or turnkey. For self-builders many services are offered: the search for a plot of land, a house plan, an estimate of the work, general advice on building techniques, structural analysis by an engineer, provide labor such as carpenters to mount the frame or specialized contractors: excavators, concrete cast makers, frame assemblers, electricians, plumbers, painters, roofing contractors and even a designer.

For Montreal general contractors: We help them in providing them a labor force and available professionals for their projects, such as: engineers, architects, carpenters, frame assemblers, or subcontractors from Montreal.

For Montreal real-estate developers and business people: wishing to mount a project, its management and building process, the group of experts for the building of new house takes care of: the search of land, the complete assembly of the project with 3D sketches and project estimate to obtain the approval of building permits, the financing and preparing of sales prior to construction with general contractors, providing professional engineers & architects for plans and doing the turnkey project.

We are a group of Montreal general contractors and experienced professionals for new house construction and real-estate projects that assist you from A to Z in building new homes and new real-estate projects of condos in and around Montreal.

Do not hesitate to contact us!